The time is up! After twelve years of preparations, we are finally going to build a new gompa. Modern, soundproof and with a stunning view.
What comes with the new gompa

Peaceful meditation
No more earplugs to your ears. The Gompa will be a part of a brand new separate building connected to the current house only by a corridor that will serve as an effective barrier against noise.
View into space
In our plans, we have rotated the building by a few degrees to the left so that the view guides to a place where two nearby hills meet. Our Lama Ole is even behind this shift.
Ideal size
During bigger events, a whole invasion of meditating yogis can comfortably fit in the gompa with its' 85 m2. On the other hand, it will provide a cosy atmosphere for participants of smaller weekend courses, too.
Thanks to the friends who take care of the development of the Retreat Centre Trojak and thanks to the generosity of the sangha, building activities can start at any moment. Still, we are missing some finances for completion of the building.
Project blueprints, visuals

100%

100%

Building permit

100%

100%

Chosen company

100%

100%
With the new gompa, Trojak will become a presentable place for meditation. Yet, it will maintain its slightly wild and yogic character. We really have something to look forward to.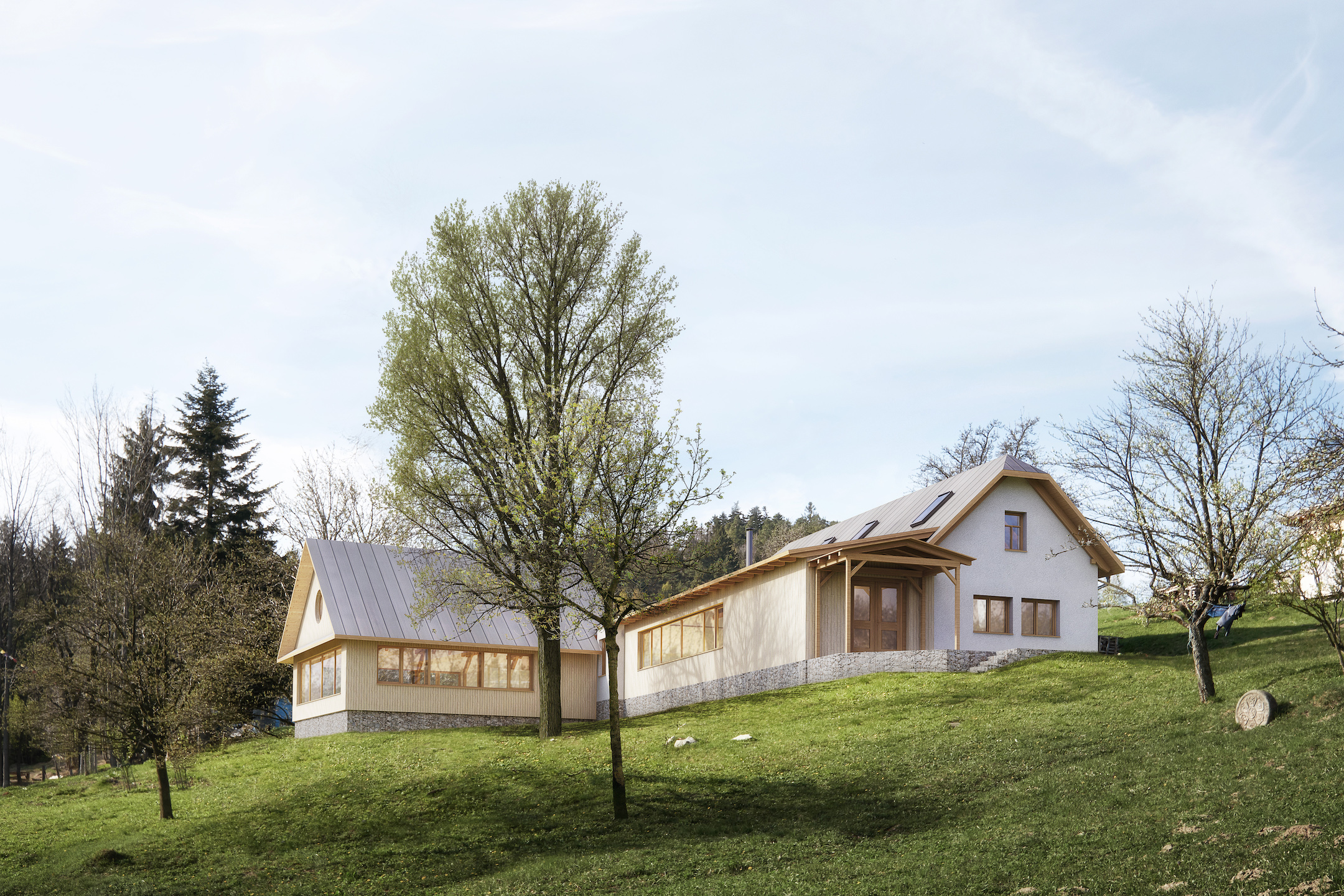 More sleeping space
Fights for sleeping mats after lectures will come to an end. And gompa will no longer look like Ibiza beach in full season.
New bathrooms and toilets
A free shower will no longer be a celebration of good karmic conditions and queuing for a toilet will become obsolete for good.
Comfortable and safe heating
It will be possible to spend some time at Trojak during the winter time without a need to lift a single wood log. No more challenging thrills with the heating system.
Room for luggage
Say goodbye to backpack barricades. Your t-shirt will not end up in a luggage of someone from the other corner of the country any more.
Finally, there's a moment when we can boldly say: "We can start constructing! Let's join us and do this together." If you support this project, we will be meditating together in the new gompa already the next year – without debt. We need the money on our account as soon as possible to be able to start the next stage of reconstruction and extending the center.
Send your contributions to our DWB foundation account number: 35-7227740267/0100
or by using IBAN CZ69 0100 0000 3572 2774 0267
Payment reference no.: YYMMDD0106 (date of your birth + 0106)
Comment: surname/GIFT/TROJAK
Account owner:
BDW Endowment Fund
Na Maninach 1288/17a
170 00 Praha 7
We signed a contract with a construction company and we will start with the construction during the first half of October. Please follow the news if the building is completed by the winter time!
The current view from the construction spot